From Italy to Eastern Europe, via the Balkans and the Middle East. A year-long backpacking trip.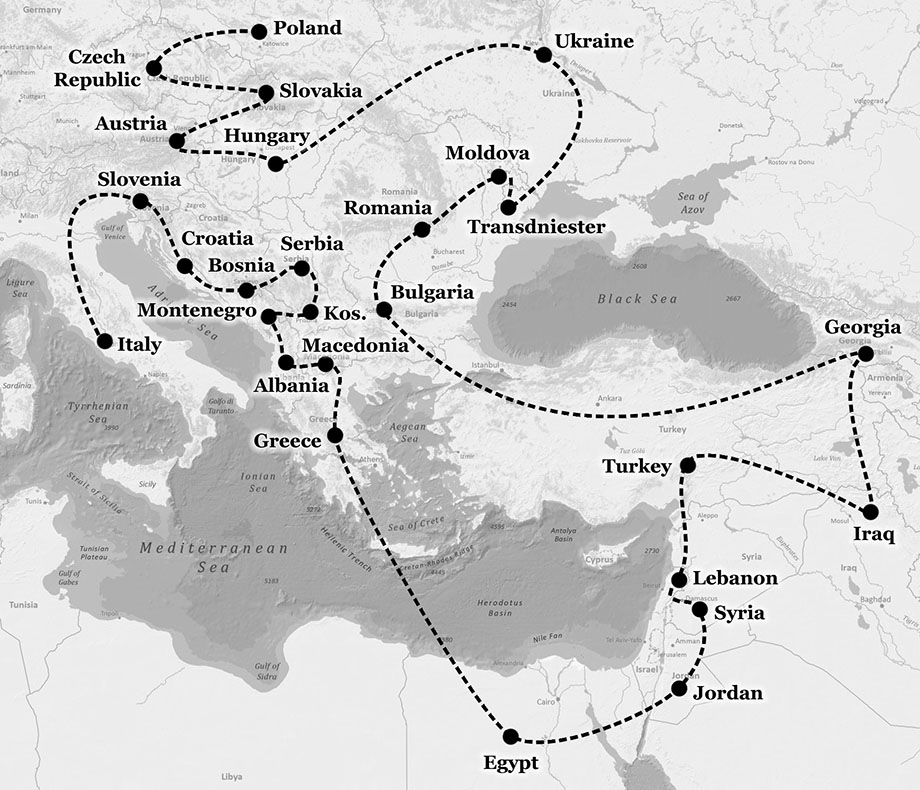 This humble corner will attempt to serve as a travel journal of sorts, cataloging all the ins and outs as, whatever way and in whichever direction the mind meanders, the body does likewise. Likely, if you have arrived here, you know me, and know at least some of the details of this trip. Irregardless, welcome, fellow traveler.
---
Chronological Order:

Part One:

Part Two:

Part Three:

Part Four:
---
Bulgaria
on June. 22, 2009
First stop is Plovdiv, a university town, large but not as big as the capital, with an amazing centre full of Ottoman architecture, built on seven hills, ala Rome. Hikers Hostel is on a cobblestone street surrounded by old houses, art galleries, and teeny restaurants. And in addition to the dorm room, has a giant lofted bed above the common room. Not bad. The city has some night I've just missed – a night of art, or something along those lines, where all 100 something galleries in the city stay open 11pm-5am, and everyone just meanders about and drinks cafe, looks at art, does… whatever. Very Europe.
Happy to just stay and relax, but time on this trip is running short, less than two months before the flight I just booked leaves, and from Poland at that, with a half dozen intervening countries I want to see in the meantime. This line is starting to sound familiar. I catch the little local train into Sofia, the capital, with some sort of sweet awning over the central train station:
After two previous locations (the first is now a dirt lot, the second has a sign hanging outside like a storefront with a little mini-map directing you to the new location) I arrive at Hostel Mostel – which I later discover is the local super chain, despised by the little independent hostels, but quite nice, all housed in a giant renovated 19th century building, tucked away in the middle of downtown. Sofia is an interesting place. Huge capital city, yes, but so much architecture and other remnants of post-Sovietism that I find fascinating. And, amazing pizza by the slice. I fail in my attempt to make it up to nearby Vitosha Mountain, my stubbornness at only taking public transport doing me in. The St. Alexander Nevsky Cathedral (Bulgarian: Храм-паметник "Свети Александър Невски"). Back to the land of the Cyrillic alphabet, which I pick up most of within a few days. The desire to learn Russian comes rushing back.
I head northeast to Veliko Tarnovo, past capital of the medieval Bulgarian Empire, most of the town perched on steep cliffs along a river which winds in a convoluted S shape throughout. The fortress is massive, if poorly maintained. I hook up with a few recent, post-Turkey, acquaintances, for a rather memorable night at something we nickname the "twenty-four hour bar" and Spider Club, if that is your real name. Fun continues as I strike east to Varna on the Black Sea (go Flag Hostel!), party town extraordinaire. The ATM right downstairs is apparently controlled by the mafia, and ads a hefty 100% surcharge to whatever you decide to withdraw. So, for that matter, are a number of the beachside clubs and bars. Controlled by the mafia that is, with large men in black suits and bulges under their coats. "No guns" signs are prominent on entrance ways, where one might expect a "no smoking" sign.
I can't complain with life in Varna. East European attitudes about everything, just a hint of seedyness and danger, gorgeous women everywhere, and the price is right. We nearly make an expedition up to Vama Veche in Romania – for a night. That is, hop in a taxi at 9, cross the border into Romania and arrive to this beach party town two hours later. The cab leaves you, arranging a pickup place for 10am the next morning. The goal, until then: stay awake and party with a few thousand people at what is essentially a beach rave. Best for my health I think I pass, and likewise, that I spend only a few days in Varna
Hungary
on July. 18, 2009
Austria
on July. 25, 2009
Slovakia
on July. 31, 2009
Czech Republic
on Aug. 4, 2009